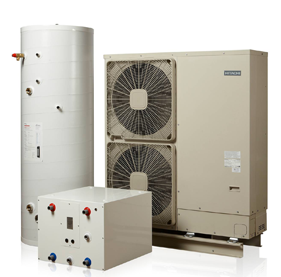 Thinking about an air source heat pump for your home? Our registered installers know all there is to know about air source heating and can advise you on the different products available and provide a high quality, fast installation service.
About Air Source Heat Pumps
Air source heat pumps are easier to install than ground source heat pumps because they require no digging or drilling. They require fewer plumbing connections too so installation costs are kept low.
They work very similarly to a fridge in that they extract heat from the air. The energy from the air is harvested and turned into a fluid, which is then heated and turned into hot water for radiators or under floor heating. It is extremely efficient, even at outside temperatures as low as -20 degrees, giving it 50% better energy consumption than conventional boilers.
Installation of Air Source Heat Pumps
Our engineers, plumbers and installers have the experience and knowledge to work alongside architects at the planning stages or with homeowners on retrofits.
We'll visit your site, office or home and review your property or plans to assess the options. We'll then gather competitive quotes on different products for you to compare and choose. When you have decided on the option right for your property, our highly trained team will install the systems efficiently and accurately to an exceptional standard of workmanship
If you want to know more about installation, maintenance or repair, please watch our video, read about our commitment or contact us.