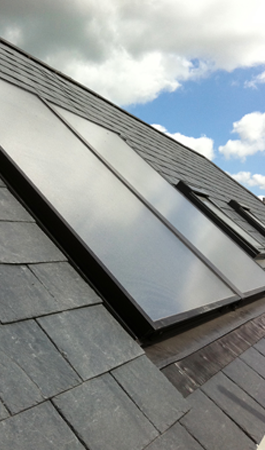 Are you considering solar panels for your home or commercial property? As an unlimited, renewable resource, solar power is not only environmentally sound but also an excellent way to reduce your heating bills.
About Solar Panels
Solar panels or solar thermal panels work by capturing the warmth from the sun (even on overcast days) to heat your water and under floor heating. This is different to solar photovoltaic panels (PV) which, power electricity in your home.
Solar thermal panels are made up of a metal sheet absorber, which sits between the glazing of the solar cell and the insulation. As the panel collects the radiation, the heat is transferred to the water/glycol mix, which flows through the copper pipes in the panel. The fluid is then pumped along pipes before passing through a heat exchanger to produce your hot water for radiators or underfloor heating.
Installation of solar panels
One of our friendly registered installers will meet with you to review the size of your house and roof. As a general rule, most houses can take up to four solar panels (collectors) on a south-facing roof.
We'll then source the panels for you at the best possible price and install them. Solar installation only takes a few hours, as solar panels require no supply pipelines. When installed properly, solar panels are extremely reliable and maintenance free too. Read more about our service levels.
If you would like to know more, please watch our video below or contact us.