Underfloor Heating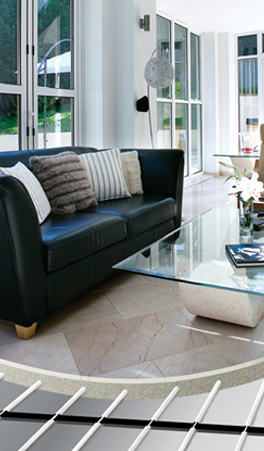 Under floor heating not only lowers your heating bills but gives you design freedom (no radiators) and wonderful comfort. If you're thinking about under floor heating for your home or office, our registered plumbers and installers can help.
About Underfloor Heating
Underfloor heating works by pumping a controlled flow of warm water from any heat source (including solar panels and heat pumps) through plastic tubing embedded in the floor. Because the emitting area is large, sufficient warmth is provided even on a cold winter day with no need for supplementary heating. And, because heat is radiated so evenly, draughts, cold spots and stuffiness are eliminated.
Underfloor heating can be installed beneath stone, wood, carpeted or tiled floors. The low system water temperatures of under floor heating will make your condensing boiler work even more efficiently and give you a fuel saving of typically 25-40% (and you'll save even more if you install a heat pump).
Installation of Underfloor Heating
We'll advise you on the best type of under floor heating to suit the size of your room and your existing heating system or boiler. We'll give you a full breakdown of options and costs and help you make your decision. Our professional and highly trained installers will then order and fit your under floor heating. Read more about our service levels.
To find out more about Underfloor Heating Installation, maintenance or repair, take a look at our video below or contact us.